Mobile phone use while driving is common but it is widely considered dangerous due to its potential for causing distracted driving and crashes. Due to the number of crashes that are related to conducting calls on a phone and texting while driving, some jurisdictions have made the use of calling on a phone while driving illegal. Many jurisdictions have enacted laws to ban handheld mobile phone use. Nevertheless, many jurisdictions allow use of a hands-free device. Driving while using a hands-free device is not safer than using a handheld phone to conduct calls, as concluded by case-crossover studies,epidemiological, simulation, and meta-analysis. In some cases restrictions are directed only at minors, those who are newly qualified license holders (of any age), or to drivers in school zones. In addition to voice calling, activities such as texting while driving, web browsing, playing video games, or phone use in general can also increase the risk of a crash.
In the United States, automobile crashes due to distracted driving are increasing. The leading cause of distracted driving is cell phones.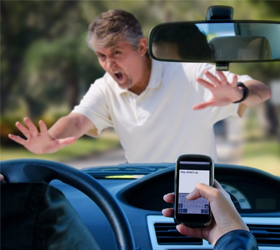 Six hundred and sixty thousand drivers in the United States were estimated to use cell phones each day, while driving behind the wheel during daylight hours. Cell phone use while driving has become a leading cause of vehicle crashes over the last two decades.Using a cell phone while driving increases the driver's risk of causing a crash. Drivers are distracted, decreasing the driver's awareness on the road, leading to more car crashes. When drivers talk on cell phones the risk of an automobile crash resulting in hospitalization is four times higher than when not talking on a cell phone.Drivers who text when behind the wheel, are twenty-three times more likely to have an automobile crash. One out of every four automobile crashes in the United States are caused by texting while driving.Some states have implemented laws in regards to using cell phones while driving.